CE Marking for Warehouse Automation Equipment
A wide range of mechanical and electrical devices support warehouse automation, from forklifts to labeling machines to control panels. In order to bring your product to market in Europe, it must meet CE Marking requirements.
Warehouse Automation Equipment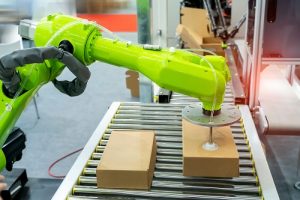 Manufacturers of discrete equipment for use in warehouse automation are legally required to address CE Marking, and they need to follow the correct process for CE certification according to the applicable EU Directives. 
Only after obtaining a CE Marking is it legal to sell, trade, or use warehouse automation equipment in Europe.  
If it's determined that an item does not require CE Marking, a manufacturer must be able to provide evidence that no Directive applies. 
CE Marking is mandatory for nearly all warehouse automation equipment, including: 
Conveyors

Robots

Sorting machines

Packing machines

Automated guided vehicles (AGVs)

Lifters

Pickers

Forklifts

Control panels

Communication equipment

And many others
The CE Marking Process 
CE certification for warehouse equipment follows the same general process as other products. However, the applicable Directives will change depending on the nature of the product.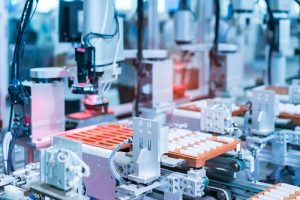 The steps for CE Marking include:
Identifying which directives apply to your item

Often, two or three Directives apply simultaneously

Determining the optimum route to conformity for each applicable Directive

Selecting appropriate Directives, conformity modules and standards

Assessing the design and build specifics against selected modules and standards

Conducting a risk assessment against the Essential Requirements of each applicable Directive 

Compiling a "Technical File" as per specifications

Drawing up and signing a Declaration of Conformity 

Applying the CE Marking 
Warehouse designs are highly integrated—even small changes cascade through an entire system. Non-conforming design elements should be identified long before production begins to avoid unnecessary difficulties during CE certification.
To prevent problems down the line, starting the CE Marking process early is key.  
Warehouse Automation Equipment Directives 
There is a good chance that several Directives will apply to warehouse automation equipment, depending on the nature of a device.
Machinery Directive (MD) – covers products/systems with moving parts driven by an energy source
EMC Directive (EMC) – applies to any electrical product or system with active electrical components
Low Voltage Directive (LVD) – applies to electrical devices between 50Vac/75Vdc and 1,000Vac/1,500Vdc
Radio Equipment Directive – applies to devices that  intentionally transmit or receive wireless communications/signals.
ATEX Directive – involves any device operating in a potentially explosive atmosphere (not typical for warehouse equipment)
Pressure Equipment Directive – involves items that operate under pressure (not typical for warehouse equipment)
Choose Technology International for CE Marking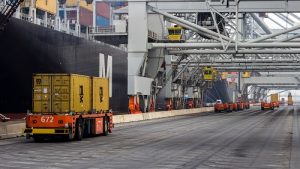 At Technology International, we can guide you through every step of CE Marking for warehouse automation equipment. We're familiar with the CE certification process, whether a system is mechanical, electrical, or a combination of both. 
Our manufacturing industry experience gives us the expertise to:
Determine which EU Directives apply to an item

Select the correct conformity modules 

Assess design and build per standards

Aid with testing and risk assessment 

Carry out the necessary product inspections

Compile the required documents for the Technical File
Contact us for support from the beginning to the end of the CE Marking process. We can optimize the path to CE certification success, navigate decision trees, and analyze the range of options that work for your unique product. 
We know your industry—from the most massive machines to the smallest components, we're ready to assist with every step to obtain a CE Marking for your warehouse automation equipment.